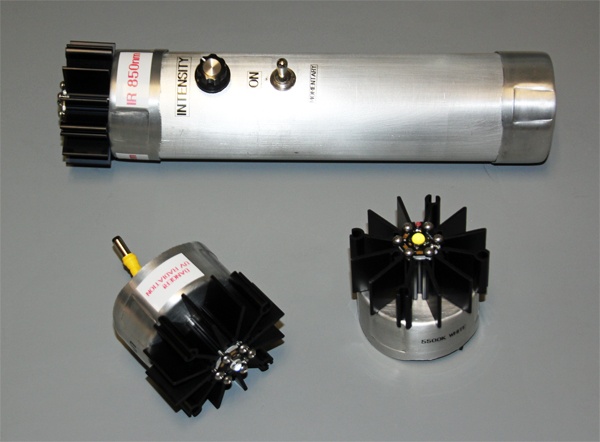 Some time ago I needed a high-intensity UV/IR/visible light source for a work-related industrial inspection project, so I recruited Abigail to help me build a 10W LED flashlight that features swappable UV/IR/visible heads. We decided to document the build since this flashlight would fit nicely in a photographer's kit for light painting, IR illumination, UV reflected photography, or UV fluorescence photography.
Our flashlight is based on LedEngin's LZ4-40____ series 10W LEDs. These are available in wavelengths ranging from the infrared through the ultraviolet. White-light LEDs of different color temperatures are also available as part of this series.
WARNING! This flashlight is capable of producing very powerful invisible radiation in the UV and IR. The eye's protection reflexes do not work at these wavelengths, and may thus cause extensive damage if exposed to direct or specular illumination. Never point this flashlight at anyone without taking proper precautions!